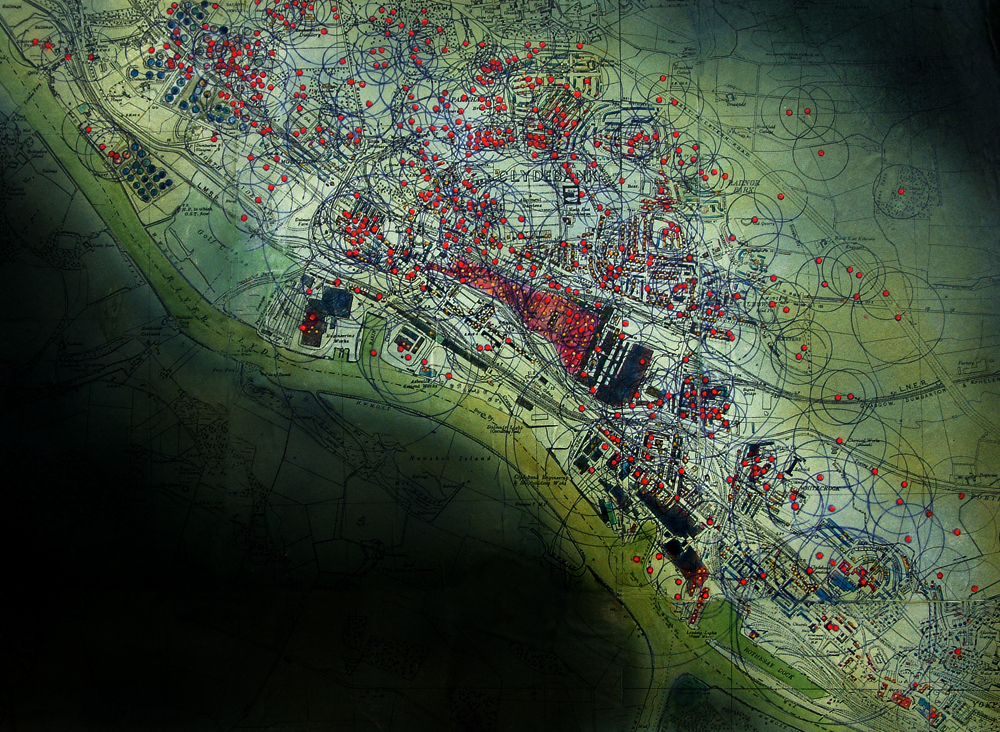 This map, compiled and designed by the artist in 1983, is included as part of the artist's research for the paintings titled "Map" It shows the town of Clydebank as it was in 1941. It contains detailed information of the damage caused by the raids of 13th and 14th March and illustrates the devastating accuracy and concentration of the attack.
The circles that surround the red bomb hits indicate the explosive category of individual bombs and are drawn at 'severe blast damage diameter'. The smaller rings indicate 50kg bombs, and progressively, 250 kg bombs, 500kg bombs. The largest rings,' Parachute Mines', weighing almost 1 metric ton, had a severe blast damage radius of around half of one mile and are shown on the map at 'half damage scale' for clarity.
Thousands of incendiaries fell in the target area. Incendiary damage is shown by yellow spots. These do not indicate individual incendiaries but buildings destroyed by incendiary devices. Buildings are colour coded in a range from pink, totally destroyed - to black. minor damage.
In total only 7 houses out of a stock of 12,000 remained undamaged. Approximately 4,000 destroyed, 4,500 severely damaged and 3,500 in the serious to minor damage category.
In total 400+ high explosive bombs and mines fell in an area of less than two square miles, not including the 96 high explosive bombs that fell on the primary target, the oil tanks at Dalnottar to the north west of the town, or the 190 bombs that fell in the boundaries of the nearby villages of Duntocher, Hardgate, Bowling and Old Kilpatrick. 132 bombs fell in the Kilpatrick hills, aimed at decoy fires west of Cochno.
The greatest damage was caused by incendiaries. On the first night of the raid 1,630 containers of incendiary bombs (weighing between 70kg and 250kg) were dropped by the Luftwaffe, a total of 105,300 1kg bombs. On the second night 782 containers were dropped
According to German sources a total of 503 metric tons of high explosive bombs and 2,412 containers of incendiaries were dropped on Clydeside on the 13th and 14th March 1941. A total of 439 aircraft took part in the raids.
Return to Blitz Story>...........List of Bombs>